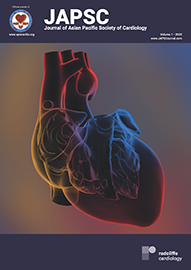 Journal of Asian Pacific Society of Cardiology (JAPSC) is the new official journal of the Asian Pacific Society of Cardiology. JAPSC is an English language, peer-reviewed, gold open access journal that publishes articles continuously on https://www.japscjournal.com/.
Led by Editor-in-Chief Prof Yeo Khung Keong, along with Deputy Editors Dr Junya Ako, Dr Derek Chew and Dr KW Park, and an editorial board of world-renowned physicians, the Journal aims to provide a forum for the latest cardiovascular research, publishing original research articles, balanced and comprehensive review articles, expert opinion pieces and case reports, written by leading authorities from across the Asia Pacific region.
For any queries, please contact Publisher Ola Wisniewska.
Read our Guidelines for Authors and submit your manuscript here.